There are many types of business entities that you should consider when setting up your first company in Singapore. If you share a vision for growth as other ahead-of-the-game entrepreneurs, opt for private limited company.
But it's okay to go for a sole proprietorship or partnership if you just want to set up a small business. Anyhow, to reach the best decision, you should grasp the basic concept of each. Let's take a look at some of the most common forms of entities in Singapore.
What are the most common types of business entities in Singapore?
The following table demonstrates the most common business types in Singapore:
Some of the most common business types in Singapore
For foreigners
For foreign company
1. Limited liability company (including private limited company and public limited company)

2. Partnership (including general partnership, limited partnership and limited liability partnership) (for reference purpose only, but not recommended)

3. Sole Proprietorship (for reference purpose only, but not recommended)

1. Subsidiary company

2. Branch

3. Representative Office
And to give you even a clearer picture, here are the realistic statistics for business formation in Singapore in the past 5 years from 2015 to 2020 (data source from the Singapore Department of Statistics):
Chart 1 demonstrates the number and ratio of business formation by types in Singapore over the 5-year period (from 2015 to end 2019)
Chart 2 demonstrates the numbers of business formation by types in each year over the 5-year period (from 2015 to end 2019)
Now you get the whole picture, let's dive into specific common types of business entity in Singapore:
1. Limited liability company
Limited liability company, or an LLC, remains the most widespread and recommended type of business entity in Singapore. There are three main reasons why this business form is preferred by the majority of entrepreneurs and investors. Those are separate legal status, members' limited liabilities and tax advantages.
Apparently, an LLC in Singapore is deemed as a distinctive legal entity which is separated from its owners. Due to this reason, a limited liability company can enter contracts, acquire and own assets, sue and be sued in its own name.
This separate legal status of an LLC also leads to the limited liabilities of its members. Particularly, the owners (who are shareholders) have only limited liabilities to their share value and do not hold any personal liabilities beyond that. The company itself is responsible for all the debts and liabilities incurred during its course of operation.
Furthermore, an LLC in Singapore is taxed at the flat rate of 17%, which is super appealing when compared to other jurisdictions. Not to mention the fact that limited liability companies are eligible for a number of tax exemption schemes and other incentives to legally reduce income tax.
Limited liability company in Singapore is divided into specific types as following:
Types of limited liability company in Singapore
Private
Public
Private limited company
Exempt private company
Public company limited by shares
Public company limited by guarantee
The main differences among these specific business forms lie in the number of shareholders and the ability to raise capital by issuing shares or debentures to the public. The quantities of compliance requirements are also different among businesses.
One thing worth to remember is that, unlike the first three options, public company limited by guarantee does not serve as a profit-oriented business. In fact, it is for non-profits purposes and has members instead of shareholders.
---
> For detailed information on these specific business types and other aspects of limited liability company, please visit BBCIncorp's Guide to Limited Liability Company in Singapore.
> For detailed information on exempt private company, please visit BBCIncorp's Introduction to Exempt Private Company in Singapore.
---
2. Sole proprietorship
A sole proprietorship is perceived as the most simple yet riskiest type of entity one could set up in Singapore. This business form is unincorporated in every sense of the world – i.e., it is excluded as a legal entity and as a corporate structure, and is owned wholly by a single person.
The owner, who is generally referred to as a sole proprietor or sole trader, has unlimited liability, which suggests that he or she shall be held liable for all debts and liabilities in the event of insolvency. As a trade-off, he or she has the privilege to reap all the profits earned.
If you are a Singapore citizen, a permanent resident, or an Entrepass holder and are over 18, you are well-placed to start your business as a sole proprietorship. Foreigners and companies are also allowed to set up this business form. In such cases, you need to appoint a local manager to whom the associated liabilities would be subject.
Setting up a sole proprietorship is a wise move were you to wish to run a small business that you sure involves little to no risk in the long run. Likewise, as this type of business is not deemed a body corporate, you can rid the ball and chain of filing annual returns and focus on generating more profits.
Alas, as there is no legal distinction between a sole proprietorship and its owner, the business is taxed instead on your personal income. Comparing this rate to that of corporate (22% versus 17%), it is a huge shortcoming. This is just one among other favors and privileges bestowed only on body corporates that you give up when you go for a sole proprietorship.
---
> For detail information, please visit our BBCIncorp's Guide to Sole Proprietorship in Singapore.
---
3. Partnership
A partnership takes place when two or more people (called partners) make a concerted effort to establish a small business to generate profits. A partnership's scope of activities revolves around its partner's expertise and skillsets. If all partners reside outside of Singapore, they must appoint at least a local authorized representative who resides in Singapore to assume certain responsibilities.
Though we do not encourage entrepreneurs to go into partnerships, there is great flexibility coming along with it – in terms of ease of setting and administering the business.
Partnerships in Singapore typically is divided into 3 categories:
Characteristics
Types of partnership
General partnership (Partnership)
Limited Partnership (LP)
Limited liability partnership (LLP)
Legal status
Not a separate legal entity
Not a separate legal entity
A separate legal entity
Members
Between 2 and 20 partners
One must-have general partner and other limited partners

No maximum number of partners

Partners can be individuals or corporations

At least 2 partners

No maximum number of partners

Partners can be individuals or corporations

Liability of member
Partners have unlimited liabilities to all debts and losses incurred by other partners
General partner has unlimited liabilities

Limited partners have liabilities limited only to their investment

Partners have limited liabilities only to their investment

Partners may hold personal liabilities for their own wrongdoings but not for other partners' actions
All in all, a partnership seems to follow the same structure as a sole proprietorship. The main difference is a partnership has more than 1 owner, meanwhile, a sole proprietorship is owned by only one.
Limited liability partnership (LLP), on the other hand, is the business form that you should really consider among the three types. What makes it outstanding from the other two options is clearly due to the separate legal status.
While being a distinctive legal entity and allowing members to have limited liabilities like limited liability company (LLC), an LLP has much fewer statutory requirements to comply.
It is reasonable to consider a limited liability partnership as a mix of partnership and limited liability company since it was initially passed to lift restrictions of the other two forms of partnerships.
---
> For detailed information and other related aspects of an LLP, please visit BBCIncorp's Guide To Limited Liability Partnership In Singapore.
> For the comparison among registration options, please visit BBCIncorp's article: LLC vs LLP vs Sole Proprietorship in Singapore: What Are The Differences.
---
4. Company registration for foreign companies
There are 3 viable options for foreigners who wish to establish their presence or expand their business into Singapore or the region as a whole:
Subsidiary
In Singapore, a subsidiary is legitimately regarded as a private limited company and is owned by a so-called parent or holding company. One great feature of the subsidiary is that it is eligible for 100% foreign ownership. Other obligations and benefits of a typical limited company may be applied to a subsidiary.
Branch
A branch is considered an extension of its parent company, which could be a multinational corporation. In other words, it is treated the same as its parent, is considered non-resident for tax purposes and is excluded as a separately incorporated entity – it falls short of eligibility criteria to claim tax exemption.
It goes without saying that the branch's name should match its parent. And for legal and administrative purposes, you have to appoint a local authorized representative and leave a local registered address if you wish to register for a branch.
Representative office
If your sole need is to assess the viability of doing business in Singapore, setting up a representative office is a good call. One such low-cost entry has no legal status and can only be involved in non-transactional activities.
Should you need to establish one to conduct marketing research, there 2 requirements to take heed of: (1) you must not employ more than 5 staff and (2) the maximum lifespan of a representative office is 3 years, after which period it needs to be converted into a subsidiary or a branch or else it ceases to exist.
---
> For more detailed information and how to register these options, please visit BBCIncorp's article on Registration Options in Singapore for Foreign Companies.
---
5. Conclusion
There are many registration options to incorporate in Singapore. The most common types of business entities are limited liability company, sole proprietorship/partnership, limited liability partnership and limited partnership.
According to the statistics, the three popular registration options are LLC, LLP or sole proprietorship. That said, we still strongly recommend private limited company type for foreign entrepreneurs who would like to embark on their new business ventures in Singapore. This is due to its superior features, especially tax exemption schemes and growth potential over other business types.
If you have finalized the type of business entity to incorporate in Singapore. The next step is to learn How to set up a company in Singapore. Let's just keep going!
---
Should you have any questions regarding types of business entities in Singapore, reach out to us via [email protected] With our established expertise, BBCIncorp is your business's potential partner on the road to success.
Doing Business in Singapore 2020
The e-book will provide you with the latest information about incorporation process, annual compliance requirements, taxation system and hiring in Singapore.
EXPLORE NOW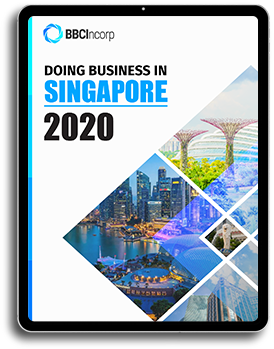 Recent Posts