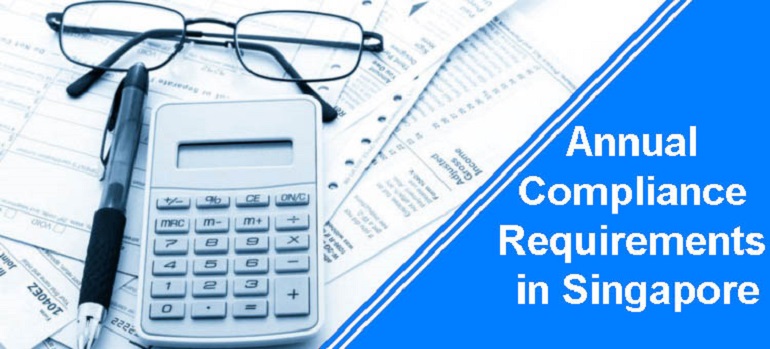 Generating profits must go hand in hand with performing your statutory duties. After setting a company in Singapore, you should make sure that it can fulfill all the compliance requirements in accordance with Singapore's authorities.
Some of the general compliance requirements for Singapore companies
Overall, your company incorporated in Singapore need to comply with the following requirements:
1. Appointing a company secretary
Having a company secretary is imperative and you are required to appoint at least one secretary within 6 months after the date of incorporation. This person will take on some unique responsibilities, namely, ensuring regulatory compliance and facilitating the communication between the company and the Singapore authorities.
It is undeniable that these duties require a large amount of expertise and experience. For this reason, the secretary should be well-qualified to take on the responsibilities. And any changes in the status of this position must be updated as soon as possible to ACRA.
>> Read more: Appointing a company secretary.
2. Appointing an auditor
In addition to a secretary, your company is also required to appoint an auditor within 3 months after the incorporation. An auditor's main duty is to ensure that the company fulfills the audit requirements according to the accounting standards in Singapore.
But here's good news! If your company is qualified for an exemption from the audit requirements, you don't need to worry about hiring an auditor anymore. Generally, to be exempted from such requirements, your company has to be deemed a "small company".
And to qualify for this status, your company should meet certain conditions regarding annual revenue, total assets and total number of full-time employees.
>> Read more: How to be exempted from audit requirements in Singapore.
3. Registering and maintaining an address in Singapore
To better communicate with the relevant authorities, you must register a physical address for your company. This location is simply the place where mails and notices concerning your business affairs would land.
The office must be situated in Singapore and must allow for accessibility at least during working hours.
In addition, you are required to advise ACRA of any changes to the office should there be any not more than 14 days from the date the change takes place.
For those who could not afford a working space, they are allowed to rent a conventional office or set up a virtual office in Singapore.
>> Read more: How to choose virtual offices in Singapore.
4. Determining financial year end (FYE)
A financial year is the accounting period in which the taxable income of your company is generated. And financial year end (FYE) is the date at which a financial year ends. In Singapore, as a business owner, you have the right to finalize the FYE of your company.
With that being said, it is advisable that you should determine the FYE in accordance with your business nature and plan. If your company is a subsidiary, which is a subset of a group, it is well-advised that you base its FYE on that of the parent company to facilitate the compliance with annual requirements.
A financial year can last longer than a calendar year but must not exceed 18 months from the date of your company's incorporation.
>> Read more: How to choose the financial year end for your company.
5. Filing annual reports
At the simplest level, your company needs to submit annual reports to the Accounting and Corporate Regulatory Authority (ACRA) and the Inland Revenue Authority of Singapore (IRAS). Particularly, you need to submit annual returns to ACRA and tax returns to IRAS on a yearly basis:
An annual return is to make sure that your registered information is up-to-date

A tax return is instrumental to the assessment of your business's tax
Noticeably, you can seek exemption from annual return and tax return filing when certain conditions are fulfilled.
>> Read more: Overview of annual filing requirements in Singapore.
6. Holding Annual General Meetings
The purpose of an Annual General Meeting (AGM) is to present an accurate and comprehensive picture of your company's financial health and financial standing.
It is the place where the director explains every figure in the financial statement to the shareholders, whose buy-ins and approvals are required to avoid the misuse of authority among directors and to ensure transparency.
Under the Singapore Companies Act, every company incorporated in Singapore is required to summon an AGM at least once a calendar year.
The statute also imposes a set of conditions applied to the arrangement of AGM. The following are some that you need to pay close attention to:
You must call the first AGM prior to the end of the 18th month since the incorporation of your company

You must make certain that subsequent AGMs are separated by an interval of fewer than 15 months

You must update all the financial reports and/or accounts within 6 months before the AGM takes place
Your private company can be exempted from holding an AGM in Singapore as long as it can meet certain conditions.
>> Read more: The AGM requirements in Singapore.
7. Maintaining statutory registers
In order to better keep tabs on companies and their conduct, ACRA demands all Singapore-based companies to maintain and update regularly their statutory registers and other relevant records.
You can maintain these accounts at the company address that has formally been registered. You also need to make sure that you perform the followings on a regular basis:
Updating information on the registrable controllers, company directors, secretaries, and auditors
Revising the list of shareholders and any required information thereof

Updating details on fixed and floating charges, and debentures

Information on the Annual General Meetings
Note: It is officially announced that businesses will have to report the information of the beneficial owners to ACRA via BizFile+ from May 2020.
>> Read more: Register of Registrable Controllers to be submitted from 2020.
8. Notifying changes of the company
Should there be any significant change in your company's status or information, you need to inform ACRA, or also IRAS in some cases, of the event.
These changes usually include, but of course not limited to the following:
Any transfer of share ownership

Any changes in share capital

Any changes in the status of the key officers such as company directors and secretary.
You should notify these changes to the relevant authorities within a stipulated deadline, otherwise, penalties and other punishments are inevitable.
9. Disclosuring of company registration number
As soon as ACRA formally gives the go-ahead for the incorporation of your company, they would send you an email to reaffirm the approval, which also includes a company registration number, among others.
This number is unique to your company and must be disclosed on all documents you keep or circulate to other parties
Should you have any questions regarding annual compliance in Singapore, talk to our consultants by dropping a chat message or sending us an email via [email protected]
Recent Posts